I'm just me :) Hi.
Staff member
Joined

Jan 1, 2001
Messages

58,452
Okay, this is more a personal entry than a 'hey look at this stuff' thread, sorry to bore you. I just wanted a way to hold myself accountable and mainly to let me keep track of what I was trying to do today. Who knows, maybe this turns into a thing.
So, let's get started. It's now 9 am in the morning. Oh, daylight saving time changed, so it feels like 10am? Anyway, I want to sort a few things out, and the best way to do that is just to get started.
Right next to me is a white table with top and bottom layer and instead of it being all pretty and tidy. It is actually dirty. It's accumulating not just paperwork and things I can throw out. It's collecting dust.
I need to move everything off of it, wipe it off from top to bottom while listening to some nice music. And clean the area where this low living room square meter table is. Then decide what to keep and throw away, clean what I want to keep and put that in their place. And then I have to think what to put on the table.
The table has been used to create a bit of 'zen' in this side of the apartment. I made it my tea corner. I have a lava plant and I have a bonsai. I might put down a wooden thingy to put the tea pot on, some cups and the box with different tea stuff. And then one of the two plants, or both. And the things that I wanted to keep on this table can go below it.
Okay, enough typing, see you later today. (/me puts in airpods and starts some music)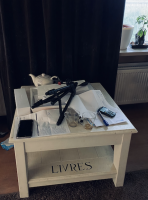 POST BELOW
what you might do today, cleaning a kitchen? Vacuum the hallway? Tidying up the bedroom? I know, it sounds boring, but indulge me and leave a reply please.
Last edited: