I'm just me :) Hi.
Staff member
Joined

Jan 1, 2001
Messages

58,040
[edit] Update, e4 from this first post got replaced by e5, which fixes the lag 100% - read the 2nd post!
Mojang wrote a new collision detection system for particles, blocks, and entities. Prior, it used to be simple box detection, but now it's voxel detection. This is why there's "lag" for some players when they are presented with particles. This is obviously annoying, but it has nothing to do with network or server lag. This is all client-side, and you can do something about it. For example, you can lower the vanilla settings for particles from all to decreased. If this still doesn't help you, perhaps a modification like Optifine helps. They're a free to download mod for Minecraft 1.13.2, and it's fairly easy to install and use. It's an allowed mod on our server as well.
https://optifine.net/downloads

From their download page select the top listed one for 1.13.2, click on (mirror) (less banners..) and you can get the .jar from there.
On the Mac you just right click > open > and it will present you with a box to install Optifine.
On Windows I assume it's somewhat similar, either double click to run it, or right click and run with java.
To install it, please do shut down any launcher and minecraft client.
Once installed, just go to your regular profile, click on launch options, change the version to 1.13.2 + optifine. Then go back to your news tab or something and click play. Make sure the right profile is selected.
If optifine is installed, your esc > options > video options > should look like this: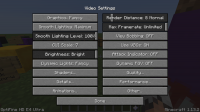 It will say bottom left that you're using optifine, and you will see loads of new options.
Besides particles, you can also change other animations and performance settings. If you have a very new computer with a great video card this mod helps you pull the most out of MC, it can look beautifulleeerrrr.. If you however have an older system you can turn down loads of settings to help get the most out of and play smoother.
Anyway, click on Animations, there's one for fireworks particles there, set that to off.
I hope this helped some players. Hopefully by the time there's 1.14, Mojang had enough complaints on twitter, their jira, etc. to improve on this that we will see performance improvements with particles.
Last edited: