I'm just me :) Hi.
Staff member
Joined

Jan 1, 2001
Messages

60,037
At some point I will write this out, for now .. a summary.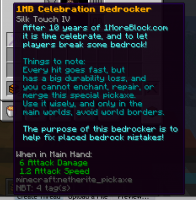 A pickaxe that is unique, special, and privileged. You can only obtain it from events. Or if you have 8 special 1MB bedrock blocks (and an ancient debris).
You can't rename it, you're not allowed to enchant it, merge it, etc. Its purpose is to mine bedrock with it. Especially to help you fix misplaced bedrock mistakes.
It won't let you break in the end, or the world borders.
Durability goes down a lot with each hit. And it almost instantly breaks it. So be super careful.
You cannot repair the pickaxe, so be mindful on what you use it for.