I'm just me :) Hi.
Staff member
Joined

Jan 1, 2001
Messages

58,040
[edit] This event is now over
Hey lovely players, thank you for jumping on the ship and joining us on this journey in a sea adventure.
Unfortunately all the staff has crashed along with you on this ship, so there are no clues, hints, tips or any help. You really are on your own. So bring a friend. Because two sea brains work better than one!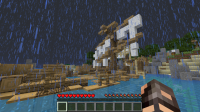 This isn't too big of an adventure, don't reserve 15+ hours of gametime, we're not going to ruin your Sunday night. This is doable within thirty to sixty minutes.
We've added a few RPG features this Summer to the -live- survival server, and we though, .. why not celebrate both 1.13 and the RPG Summer update with a 1.13 Summer Sea Adventure? We hope you enjoy this experience.
You can play alone, or you can bring one friend. You can start over if you want, just poke mrfloris on the -live- survival server for new details.
The story begins from the shore, you as a sailor, shipwrecked upon a sandy beach. You recollect your memory of a storm, ravaging your ship with relentless winds. Upon finally regaining consciousness, you find yourself on an unknown island with unknown dangers. Make your way through this wonderfully crafted land to complete quests, mazes, and adventures. Find a way out, either through a successful escape, or succumb to the depths of the Drowned.
​
You can play! Here's how:
Connect to the 1.12.2 -live- survival server on ip: 1moreblock.com (default port: 25565) and let mrfloris know (that's me). I will message you the details for the 1.13 adventure server.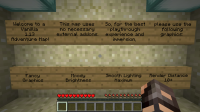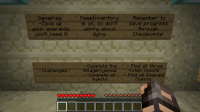 I didn't / can't finish my adventure!
Don't worry, you get a participation item in the -live- server later. And if you want, you can start over to try again.
By the way, if there's a bug or issue, .. I am sorry. We will let the map-maker know and since it's 1.13, I can imagine things are a bit unpredictable still. Do report back issues to us here in this thread or to me in the -live- server.
How long will the Summer Sea Adventure last?
We're going to give this a try this weekend, on Sunday. For as long as I am awake.
Wait, there are Rewards?
Most certainly! On Monday I will go check out who played, how far they got, how much time they've played, and I will have a few surprises on the -live- server on Monday.
I have completed the Adventure!
Congratulations. Ssssh, don't' spoil it for others, you're free to help if they have questions you have answers too, but don't help them cheat and please don't spoil the story. Exploring and figuring things out is part of the adventure.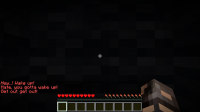 Last edited: