I'm just me :) Hi.
Staff member
Joined

Jan 1, 2001
Messages

59,393
This weekend of April the 26th, 27th, and 28th, there is a 1MB Event. Details will be disclosed over time.
It's a limited event with limited slots.
There is a countdown that starts on Friday the 26th.
The first who can make it when the countdown ends can join.
If you want to play again, or missed the countdown, another one starts on Saturday.
Posted on Discord:
It is friday in the Netherlands, this means i can officially disclose " THIS WEEKEND: Starting on Friday > 1MB EVENT, limit slots available, more details following throughout friday"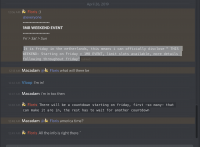 Subscribe to this thread or keep an eye on the Discord #events channel as we will post more details and a countdown (by updating the discussion thread here and/or on Discord)
Have fun everybody.
[edit] (read this in a few hours, there will be new stuff in this first post!)
# Goal 1: Do not die, survive.
Code:
- Build a simple house, you want to survive the first night.

- You want a fishing rod, so you do not starve to death.

- Crops will grow slower, and will perish.

- Spiders give string, caves have string. A sword will break string.

- Killing spiders can result in spider web being sprayed around you.

- String is also helpful for making a fishing rod, a bow, and for wool for your bed.

- You cannot mine stone. You have to find a way to get cobble.

- Breaking blocks softens their surrounding blocks.

- You can use cobble to make stone tools, and a furnace.

- It is possible to die, easily, stay alive. If you die you have a chance to be unable to return to the game, get stuck in spectator mode, get randomly banned, or return without any items, or only some of your items. Your health will also get cut by 20 to 25%
# Goal 2: Farming, cave exploring.
Code:
- Farming;

- Farm food, remember, crops grow slower, and perish.

- Crops/plants require natural water, and natural light. Certain biomes are really tough for farming.

- Cave exploring; tip: bring logs with you for planks and sticks.

- Cobblestone, grass, ... are subject to gravity, cannot build below you.

- Explore caves for iron.

- Explore carefully, as monsters are not always vanilla monsters, and have special abilities.

- Torches can go out, require fresh air, and do not prevent monsters from spawning.

- Find diamond! Bring your flint and steel along with your iron tools.

- Like we said, torches need fresh air, so you will need alternative ways to light up your paths, like redstone torches, etc.

- Mobs can explode. TNT and mobs blast range is above average.

- Getting diamonds is a lot harder, so get just what you need.
# Goal 3: Go to the nether
Code:
- Create a nether portal and go to the nether, take a screenshot of this achievement if you can.

- Collect gunpowder for TNT and glowstone dust for glowstone blocks (helps with finding diamond)

- Remember: TNT helps soften the stone and find diamonds easier.

- Pig zombies drop netherwart (handy for potions)

- Stock up on wart, you need it for your enderdragon battle.

- Ghasts cannot be killed.
# Goal 4: Kill the enderdragon
Code:
- Find a stronghold and go to the end (take a screenshot maybe to show me?)

- Fight and hopefully win the enderdragon (let us know who have actually been fighting it)

- You probably want a good armor suit, a good amount of potions, and lots of luck.

- Enderdragon regains health when it kills things.

- Endermen will attack you even with helmet.
Last edited: