I'm just me :) Hi.
Staff member
Joined

Jan 1, 2001
Messages

59,998
Yup, I am an Apple fanboy, I have an iPhone.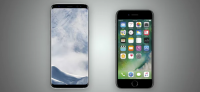 Way back when Nokia was something on the market, I had the 3310i, it could barely read email. But it was my first ever mobile phone and I was happy with it. Then in 2007 Steve Jobs changed the world of phones, introducing a smart phone. A three in one device for calling, internet, and media. So good.
I waited until they introduced a retina version so I could actually see the small print on the screen and it was fast enough for the apps and games that came out (and I finally saved up enough money) But I got the iPhone 4. And I regret not getting one earlier.
Anyway, I've had the 5s since, and the 6s now. I suspect the 7s or 8 will be my next one.
I never liked the build quality or the OS for Android phones. And the saturated market with crap from the telecom providers on top of it - and the ability for everybody to just upload any app and call it 'official', were reasons for me to not even consider it.
But the latest versions of Google's phones, their OS and the ability to get one without the shell from the telecom on top of it. It's finally a good competitor. So who knows right? If Tim Cook screws things up even more for them and Android gets stuff done the right way. I might just switch? Maybe?
Your opinion and experience might be completely different. Share it! No hate. We use what we like, but I am curious if you're an iPhone user, switched to Android. Or stuck with Android forever, or maybe once made a switch to iPhone.