I'm just me :) Hi.
Staff member
Joined

Jan 1, 2001
Messages

57,839
Date
Friday the 9th, 2020
How late?
4 PM new york time, 9pm UK time, 10pm Dutch time.
Where?
Discord, general-chat, the voice chat.
What?
That's in just over 23 hours from now, see you then.
Why?
You can join if you want to hear some interesting questions, and hear hopefully some more interesting answers.
It's a nice opportunity to hear back from players
what their biggest concerns are. And we can share perhaps if we're aware, and/or if we can do something about it. You're also free to share what you like a lot about the server, so we can hear back what makes playing enjoyable.
Feel free to ask questions
about the ongoing and upcoming events, the server, the world on it, our rules, our team members, etc. Always wanted to report or ask something? This might be that perfect chance.
If nobody has questions, maybe I will share some info and then just hang out for a little bit.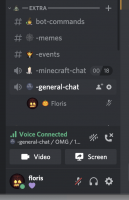 See you all on Discord tomorrow night

Please note that it's a town hall meeting, chit chat and audio about something else you're doing, .. nope, not then, please hold off until after.
Looking forward to seeing everybody join and using this opportunity to freely ask some questions or point out concerns in a safe space.
The is goal to hear You and to better the server.
Plus, I get to hang out with you all so that's pretty cool too.