I'm just me :) Hi.
Staff member
Joined

Jan 1, 2001
Messages

59,392
It's now Nov 2nd 2020, the spooky month and halloween events have all ended.
It's October, and that means it's fall season, and that means it's spooky scary skeleton time. We're starting the month off with letting you know we've got some fall season updates ahead of us. So keep an eye on the changelog. And now that it's October we're letting you know we have some spooky stuff events ready to roll out.
BEFORE ASKING QUESTIONS : READ THE THREAD
What is happening in October?
View: https://youtu.be/DeEQjqw_Dbo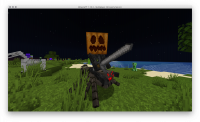 One day you might sleep in your bed and get woken up by spooky bats! Thankfully they don't harm you, but, .. post a screenshot of one in this thread and you might get a surprise!
Oh, if you change your skin to a Halloween themed skin, post a screenshot, we might also have a surprise for you. I've already changed mine.
And this won't be all. Maybe with enough players online we will have a 5x boost event, or play a few rounds of extra special /run games. Halloween spooky themed Spleef maybe? Who knows, we might just install a temporary mini-game if we hit another dozen active players this month.
More and more danger will happen in the worlds as well. The Summer /spawn will get an update for a more autumn feel. Slowly turning it into Winter. More scary mobs might appear. Maybe even tough to to beat mobs that you've never seen on the server before.
At the end of the month we will have a long Halloween weekend, with drop parties, another 5x booster day, and of course we cannot leave out ghost hunting and trick/treating.
Sign up on the forums if you haven't already, so you can subscribe to this thread and never miss out up updates.
Last edited: