I'm just me :) Hi.
Staff member
Joined

Jan 1, 2001
Messages

58,040
EDIT: /thanksgiving event has ended!
Hey everybody,
This is the first time we will admit that we've got a few things in the planning for the Thanksgiving Event that we will be holding this year.
Unlike Halloween Month, this is more like a handful of days, maybe even less. From the day before Thanksgiving to right up to the weekend. As we get closer we will let you know more details.
Subscribe to this thread, by replying or clicking the subscribe link, or join us on Discord and keep an eye on the #Events channel.
In the coming days I will start posting here what we're preparing and working on. And maybe a few beta testers might get an early glimpse.
To sum it up, we will have turkeys running wild, we have a few mini-games, and an undiscovered world to explore. And maybe a bit more, but more about that later.
Not everybody celebrates Thanksgiving, but it sure if a great excuse to have some fun on Minecraft with our friends! I hope we see you as well around the 22nd of this month.
Questions? Just ask!
A little teaser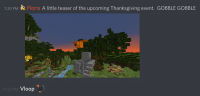 Last edited: