I'm just me :) Hi.
Staff member
Joined

Jan 1, 2001
Messages

60,037
Greetings, Minecraft players and friends!
View: https://youtu.be/arfhxAzNrqU
Valentine's Day is just around the corner, and what better way to celebrate the season of love than with our Minecraft community? On the 14th, we invite you to join us for a day filled with adventure, excitement, and fun.
We've got a brand new spawn point made by NikkiPixel, and an exciting new island to explore with builds by our awesome builds, team members, and contributions from Callum and others.
You'll find all sorts of fun things to do. We've got a parkour course just for fun, a maze with maybe something at the center of its heart, and other exciting activities to enjoy. And the best part? You can collect four unique heads by collecting tokens in the circus. There's a wishing well where you can make a wish, and on the floating islands, there are themed banners to find and maybe some secrets that unlock a /perk.
In addition, we've got special kits and shops with unique items that you won't find anywhere else. This is your chance to get your hands on some truly special in-game items, so don't miss out! Oh and there are some shop items that give even more items right when you buy them, or when you use them for the first time. So make sure to prepare some storage. Spoiler.. they're not cheap items, but worth getting! Especially if you love collecting items that do special things.
So what are you waiting for? Join us on our Minecraft server and let's celebrate Valentine's Day together! Whether you're a seasoned player or just starting out, there's something for everyone. We can't wait to see you there!"
How to start? Type /valentine on the 14th, and you will be transported to the new spawn.
Here's a sneak peek of the new spawn, if you're into spoilers.
View: https://youtu.be/kM7vc0KNORk
And here's where to find the New shop with a valentines day suit you can collect, every item might have something unique added to it. Get them all! Time to spend that money

View: https://youtu.be/q_2dOILVJn4
You can collect tokens in the circus, then find HUGE gifts, inside them you will find a lectern with info (read it!) and an allay you can right click and exchange 15 tokens for a head. There are 4 gifts with 4 heads to collect.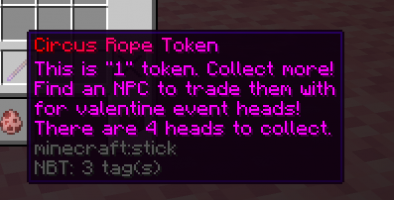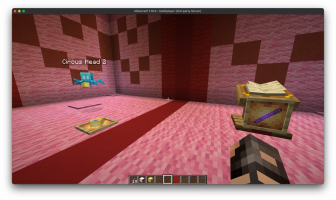 Below a screenshot of a shop with a special item, maybe it has special enchants, maybe it gives special items, but it's at least a cool collectors item. Don't miss out!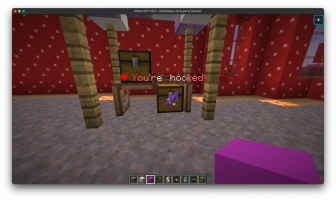 Besides the 4 banners from last year, there are 4 new ones! Can you collect all 8? Check out the floating islands.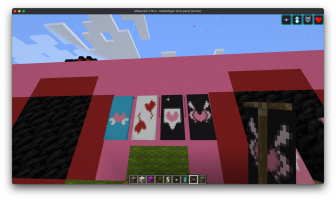 Last edited: